Auto-Gas skids with "L" shape
Sets of LPG storage tanks with atmospheric vaporizer in the "FEED BACK" system, to support the natural vaporization of the tank.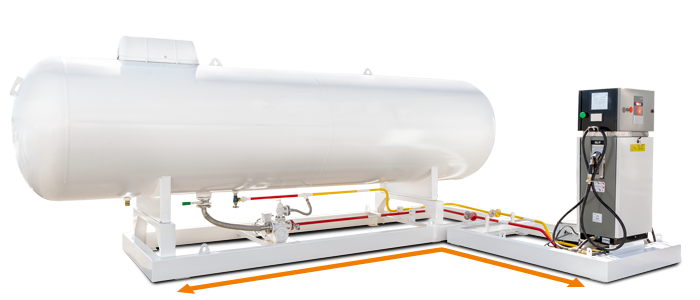 As a complement to our standard range of GAS-AUTO SKIDS, in which the total length of the LPG storage tank assemblies with the transfer and supply equipment can be a problem due to lack of available space or difficulty in passing vehicles We have added the possibility of building these sets with the frame in the shape of an "L", as an alternative focused on solving these types of difficulties.
We also want to highlight our models with rack transfer equipment without dispenser or filling column, for connection to the supply equipment away from the LPG storage place, or our models with vertical LPG tank, which reduces the length of the sets.
© LAPESA GRUPO EMPRESARIAL, Polígono Industrial Malpica, C/A, Parcela 1A, ES 50016 ZARAGOZA (ESPAÑA)